Why Alexandra Fusai?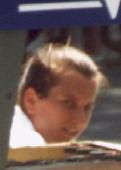 (above image Copyright 1998 Gary Zimmerman)

Once upon a time, some years ago, I was watching a tennis match at the Family Circle Cup (Hilton Head, South Carolina, USA) with my parents. We were sitting in a "skybox" above the main court, early in the tournament, and some "star" was humiliating some qualifier down there. It was, of course, not very exciting. I decided it was time for a smoke, so I climbed down to Earth and went to see what was happening on the other "lesser" courts.
---
I came across an interesting doubles match, in progress. In the far court were a couple of Eastern-Europeans (an assumption based on their names, which I have since forgotten), HUGE women - they looked about 6'2" - 180 pounds - all muscle, no fat. In the near court were a couple of more normal-sized females: Clare Wood and Alexandra Fusai. I considered the players in the far court to be "Amazons".
---
(By the way: Funk and Wagnall's says: "Amazons, in Greek mythology, a race of war-like women who excluded men from their society...". Nowadays, in [American] English, an "Amazon" is a large, muscular, usually belligerent female.)
---
Anyway: Fusai-Wood (unseeded) had taken a set from the Amazons (seeded) and were ahead to take the second set and thus the match. They were having a real fun time and the Amazons were swearing and miserable. The Amazons were playing "hit the corners" and doing fairly well at it. But Fusai-Wood were playing "hit the Amazons" and doing even better. Fusai-Wood were both rushing the net and aiming for bellies, knees, and feet. Although the Amazons, in general, were a much bigger target than the corners which the Amazons were aiming for, Fusai-Wood showed even greater precision in hitting their targets. The Fusai-Wood returns were soft, precise, amusing; not sadistic. Occasionally, unpredictably, they were between the feet (but some of those actually got returned).
---
Fusai-Wood won. The crowd applauded long and hard; not just because the match had been very amusing and entertaining, but because the winning team, on the fly, had correctly determined the "way to win". Upsets happen. And that's good. And sometimes they are like a live Marx Brothers - Three Stooges show; and when that happens then long and hard applause is entirely justified. Although I had seen only about 1/3rd of the match, I think I felt like the rest of the audience in that we had seen a "once in a lifetime" match.
---
It turns out that that was not really a "once in a lifetime" match for me - except in the sense that I have seen Alexandra play many other "once in a lifetime" matches since then (if that makes any sense?).
---
So I went back to my folks in the main court skybox and told them, basically, "I just saw an INCREDIBLE doubles match! These two favored Eastern-European Amazons were hitting corners very well, but these two ordinary-sized girls were actually TARGETING BODIES! It was HYSTERICAL! And one of the girls is VERY cute. I think her name is Clare Wood. I HAVE TO watch their next match. You should see it too!"
---
Next day: my folks and I are again in the skybox watching some boring slaughter and Fusai-Wood are due to start another doubles. I plead, "Let's go!", and they decline. So I go. Again Fusai-Wood is the underdog, but this time they are having a much tougher time. The "targets" are staying back and are much smaller anyway. The favored team is hitting corners better than Fusai-Wood is. Fusai-Wood lose the first set. Even so, I learn a lot this set: importantly I learn that the so very cute, pretty, beautiful member of the team is Alexandra Fusai, not Clare Wood (picking up why the Ump says things such ways informs me of this); but more importantly I get an insight into Alexandra herself: her personality. While both Clare and Alexandra seem to put points into 2 categories, they seem to define them differently. Clare's points are won or lost. Alexandra's points are good or bad. Alexandra even seems to argue with Clare (some, and politely) about good points lost, and even bad points won.
---
After the first set I went back to my folks in the main court skybox and said, basically, "Fusai-Wood are playing right now Down There and you both should come with me right now and watch how it turns out. They are down a set but could come back. Let's go!". And we did go and we watched the last few games of Fusai-Wood losing the second set, and thus the match. But my folks agreed that Alexandra is very pretty, cute, and beautiful.
---
Well, I was obviously impressed and interested by this pretty, witty, talented girl, Alexandra Fusai, so I made a point of visiting my folks after that when the Family Circle was in town. (I visited at other times, too.)
---
Then there are some years which are kind of fuzzy to me; 'cause my mom died in the middle of them. But I remember her seeing a match with me where Alexandra did very, very well, and won. (Dad stayed in the skybox and watched some star win some boring match). I seem to recall that my Mom told me after that match something like, "That was the best tennis match I have ever seen! And, you're right, Gary, she is very pretty!" Mom had seen a lot of Family Circle matches over the years. I think that was her last Family Circle. She got very sick somewhat suddenly, although she died slowly; for months we thought and hoped her decline would reverse and she would be ok. But she died. But the greatest tennis match she ever saw was a match Alexandra won; and that will probably be true for me too, 'cause at least the ten greatest matches I have ever see have been Alexandra matches.
---
After Mom died Alexandra has continued to give me hours of joy and entertainment per year at the Family Circle. I remember her beating Kournikova, kindly and gently, but clearly, on the very-most-back court, although Kournikova acted like she was 1/2 her age. And I remember another match where Alexandra was actually favored (rare in those days), but, again, on that very-most-back court where Alexandra's corner shots were 1 inch out and her opponent's were 1/2 inch in. Dad watched that with me. Alexandra lost the first set. Then Alexandra seemed to decide that "hitting the corners" was not a good idea for her that day, so she seemed to go to a "net and power" game. Meanwhile, her opponent was totally lost in a world she had never been in before; having won a set from a "star". But Alexandra hit her nets and powers long and wide. It became, again, comical; especially after Alexandra managed to finally get a net slam in and her opponent somehow managed to lob the return 100 feet high, right back to Alexandra, then the opponent fell literally flat on her face. Alexandra hit the return 1 inch long. Alexandra began the laughing, the 100 or so spectators joined in immediately. (Everyone was laughing at Alexandra's flub, not her opponent's fall.) Only the opponent, still prostrate, didn't laugh. Alexandra lost that second set, and thus the match, but I bet virtually everyone there remembers it this way, "I just saw a real NEAT match; Alexandra Fusai lost, I forget who won.".
---
My most vivid memory of an Alexandra match, in those years, is a doubles match. I don't remember who Alexandra's partner was; but I don't think it was Clare Wood, and I don't think it was Natalie Tauziat either. It does, however, seem like it was the first year of night matches at the Family Circle. It might even have been the first night of them, but I think it was the second. I'm guessing it was a Thursday night. That just seems right. Anyway, the night started with a singles, which went long, and Alexandra's doubles match didn't start until 9ish pm. About an hour before that (as the singles match was getting very hot) an obvious cold-front began moving in. By the time Alexandra's match started it was feeling a bit "brisk"; even "nippy". The hundreds who had watched the singles (this was, of course, in the Stadium Court; the only one with night lights) had mostly left (perhaps mostly 'cause they could feel the cold coming fast). Maybe 80 remained (I suspect mostly Yankees, like me, who think 55-degrees is a pleasant Spring night). Alexandra, as usual, played an incredibly exciting match: long points, close games, heart-attack comebacks. Even so, as the hours(!) went by, people continued to leave. It was Total War, but it was getting VERY cold. By the time Alexandra (and her partner) finally won it (before midnight?), it was probably about 40-degrees, more or less (quite probably less). About 9 spectators remained to the end of the match; 8 applauded with much respect, knowing they had witnessed a very good match, the 9th (me) yelled and whooped and hollered and jumped up and down in my skybox perch (free beer in the skyboxes!). As Alexandra walked off the court, after the match, and the other spectators left, and I continued to clap and whoop, I think Alexandra turned to look at what all that racket was, those hundreds of feet away, and up there, and I think she smiled at me. But I don't even know what year that was so my memories are very vague. I know this though: I was there, Alexandra (and her partner) won, it was an INCREDIBLE and very long match, and it was truly chilly when it began and truly COLD when it ended. And it was yet more strong evidence that Alexandra is a player who can DELIVER: and I mean BIG TIME! Any Alexandra match is NOT TO BE MISSED! Much more likely than not it will be FANTASTIC! And often (especially lately!) she WINS!
---
Meanwhile: I discovered the World Wide Web. Actually, I've been writing computer programs ("code") since I was in 8th grade (1968). On and off, I have made many $1000's doing it professionally; in many versions of BASIC, Fortran, C, Forth, Pascal, and other languages. But my Spanish is lousy, although I had 4 years of it in high school. Oh well. I could have taken French (about an equal number did) but I saw Spanish as more of a "Third World" language, so, as a "child of the Sixties" I felt it was sort of my "duty". ANYWAY: when true "public" access to the 'Net became available, via Prodigy (they were first!), I was there. Then the 'Net became (mostly) the Web (I think Eve Andersson deserves much credit for this; and no blame). Prodigy offered "free" websites and good help in building one. So I looked around at what was out there. And I built a little "Actress Gallery" (Eve Plumb was my 1st) as many thousands already had. But it was mine. That was 1997.
---
As 1998 began I became aware of some things: that I had some web-site-creation abilities, that I was looking in the daily papers for Alexandra Fusai (and hoping she won), that many tennis players had websites about them (some several), while there was no purely Alexandra site (Vincent Girardin's was close; but I felt I could do better), and that there were pictures of Alexandra on many sites which could be collected. Also, I was aware that Alexandra was a player whose rankings had improved dramatically in the previous year. And, of course, I was aware that Alexandra had given me very much pleasure and joy over the previous several years, although, of course, she had no idea that she had given so very much to me.
---
Meanwhile, my Dad, who had had a stroke a while after Mom died, which involved brain surgery to fix, then, a bit after that, had 1/2 lung removed due to lung cancer, had improved far beyond doctors' expectations, but then caught a bug in early January and wound up in the hospital, again. It turned out to be a big deal (pneumonia) and I made 3 trips there in January; by the time I arrived for the '98 Family Circle in late March it was my 6th trip of the year, and I had spent 2/3rds of the year, at that point, down there, instead of here, at home. But Dad was finally tremendously improved by the time of the Family Circle and I even managed to bring him to a couple of Alexandra matches (a singles and a doubles) and I think he saw, again, how special she is, as I had many times, over many years.
---
Alexandra was in the main draw at the Family Circle '98; her 1st time, but she earned it! So I wouldn't see her win qualifying matches, like I had enjoyed in previous years. Oh well. (I didn't mind.) I saw some enjoyable qualifying matches; I remember ones involving Jana Kandarr and Catalina Cristea. But, most important, I saw Alexandra practicing on Sunday. Her mother (I think) was throwing balls at her. So Alexandra was there! Yea!
---
Alexandra's 1st match was vs. Ai Sugiyama, seeded #13 (and ranked about that; Alexandra was ranked #50ish). I was there. Alexandra served first, and lost: 0-1. Then she broke serve: 1-1. Then she lost, and lost, and lost, and lost: 1-5. Then she held (1st time!): 2-5. Then she lost: 2-6. Oh well. Alexandra served the first game of the 2nd set, and lost: 0-1. Then she broke: 1-1. Then she lost again: 1-2. Then she broke again: 2-2. Then she held: 3-2. Then she broke again: 4-2. Then she lost: 4-3, and lost again: 4-4. Then she held (5-4), lost (5-5), held (6-5), and, finally, broke again: 7-5. Yea! About 300 people were sitting in the bleachers at this point. They were really getting into it. Here this #50ish had taken this #15ish to a 3rd set with a HUGE effort. For probably at least 90% of them this was their introduction to Alexandra. But, so far, they had only seen a hint of her greatness.
---
Alexandra served the 1st game of the 3rd set, and lost: 0-1. Then she lost again: 0-2. Then she finally held (1-2), then lost (1-3), and lost again (1-4). Then 2-4, 3-4, 4-4, 5-4, 6-4! WOW! Alexandra won the match! The applause was appropriate (loud). I bet everyone there will forever remember that Alexandra Fusai beat "somebody" in an INCREDIBLE 2 1/2 hour match that day. They may well not remember it was a major upset. To me, who had seen her many times before by then, it was just Alexandra "doing her thing" (albeit in a MAJOR way!). Even so, I was very pleased, to put it mildly.
---
That night there was a "thing" scheduled at The Mall where some players were to answer some questions and sign autographs. I thought there was very little chance of Alexandra being there, but, in the spirit of "anything's possible", I went. When I got there it had started and there were players on a stage answering questions - no Alexandra. So I wandered around The Mall for a bit and then stood and watch the "tennis thing" tend toward what seemed to be winding up. So I decided, "I'm outta here!", and turned to go. But, a few feet in front of me, there stood Alexandra! She looked breathtakingly beautiful, with her hair down, obviously (and understandably) happy, in a very figure-flattering pantsuit. I froze. I decided not to leave. I decided I wanted an autograph. I had my pen (I always have it; my mom gave it to me 20 years ago - it is part wood). All I had to write on was that day's draw sheet, which had my game-by-game log of that day's match. I decided that would be a good thing for her to sign (involved in that decision, of course, is that it was all I had). So I walked up to Alexandra and held out the draw sheet and my pen and said something cool like, "Um, autograph, um, ok, um, please?". Alexandra smiled, then signed. Then, "going for broke", I pointed out my scorebox and told her, "This is your match today.". She studied it seriously, then grinned broadly. I said, "It seemed that long, didn't it?", and I think she grinned and said, "Yes.". At this point, I suddenly became aware that she was not alone, there was someone with her, and that someone was Natalie Tauziat. And I realized that Natalie was a "star" and Alexandra was, well, less so. So I turned to Natalie (mostly out of politeness) and said, "You sign too?", and she did. (I am a man of few words, eh?) So I moved away a bit and others came for autographs. I quietly grabbed a picture of Alexandra signing. Then Alexandra and Natalie went on the stage and I got another picture of Alexandra on the stage. These 2 pics, and a scan of the autographs and box-score, are visible in the picture galleries. I learned, that night, that Alexandra is even close-up truly very, very beautiful. And very nice.
---
The next day(s) had weird weather (rain) so matches got postponed and rescheduled. Finally Alexandra was set to play her 2nd round (vs. Cristina Torrens-Valero) at 9:30 am on the Thursday of the tournament on what they called "Court 5". When I got there I discovered that "Court 5" was actually a practice court with no seating, and viewing from only one side of the court, outside the fence. Cristina was a qualifier who had downed a main draw player (Fang Li) in 2 sets. The winner was scheduled to play 3rd round "after suitable rest".
---
I stood and watched the entire match. For 3 hours. Maybe a few other people also did, maybe only I did. Many watched for a while. Playing around, I tried to record the match by point (and actually did so). This recorded just how long the long games were (there were many long games). Someday I hope to post this point-by-point to this site, but not tonight. So here is the game-by-game (with Alexandra's score first; TV served first): 0-1, 0-2, 0-3, 1-3, 1-4, 2-4, 3-4, 4-4, 4-5, 5-5, 5-6, 6-6, 7-6(7-3), 1-0, 1-1, 1-2, 1-3, 2-3, 3-3, 4-3, 4-4, 5-4, 5-5, 6-5, 6-6, 6-7(6-8), 0-1, 0-2, 1-2, 1-3, 1-4, 2-4, 3-4, 4-4, 5-4, 6-4. After she won this match, I took the picture of her grinning through the judge's chair. This was very much an Alexandra match: after coming back from 0-3, then 1-4, to take the 1st set in a tie-break, then almost winning the match in a tie-break 2nd set she then went down 1-4 in the 3rd. No problem. She won 5 in a row: 6-4. Alexandra's matches are like that; an Alexandra match is not to be missed!
---
(to be continued)
---

This page, and site, produced by Gary Zimmerman

Send me mail

Go to my HomePage